November 05, 2021
Six months after its programs registrations were approved, the Provincial Training Center in Davao Oriental held its first graduation ceremony on October 22 at the Covered Court in Barangay Don Enrique in Mati City.
Fifty trainees are the new graduates of Driving NC II and Food Processing NC II where the ceremony was led by PTC Center Administrator Ma. Leticia Salcedo, Supervising TESD Specialist Wena Trinio, Barangay Council Member Reymund Manaybay and P/Lt. Ricard Teleron, team leader of Cluster 2 of the Revitalize Police sa Barangay. Also present were trainers Jezreel Pansoy, Reden Mabasa, Marites Suarez and Effe Duazon.
The graduates expressed their gratitude to TESDA as they felt "accomplished" upon receiving their training and National Certificates II. The trainers also thanked the trainees for being cooperative during the training and how the program has also made an impact in their lives.
After the graduation ceremony, the PTC Davao Oriental has also released the final allowance of trainees under Food Processing NC II.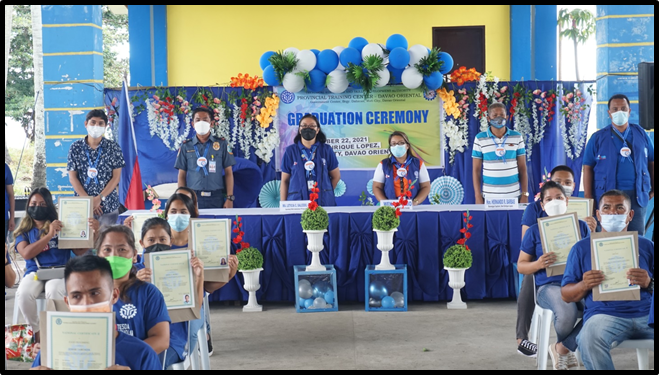 For more information, contact:
Provincial Training Center – Davao Oriental, Government Center,
Barangay Dahican, City of Mati, Davao Oriental
Telephone No. (087) 811-3641
Email: ptcdavaooriental@tesda.gov.ph,