November 11, 2021
A total of 51 Philippine Army (PA) and Philippine Air Force (PAF) personnel have started their skills training program under the Technical Education and Skills Development Authority (TESDA) Region IV-A.
Last October 11, TESDA Region IV-A Regional Director Toni June Tamayo and Quezon National Agricultural School (QNAS) School Superintendent Ceferino Tolentino, Jr. attended the opening program for the training on Landscape Installation and Maintenance NC II of 26 Army personnel.
In his message, Tamayo affirmed that TESDA and the Department of National Defense (DND) can very well be excellent partners in building peace and development in the region.
It can be recalled that in 2020, TESDA and DND signed a Memorandum of Agreement (MoA) wherein the former will conduct free training and assessment to uniformed personnel.
These uniformed personnel will be tapped as future community-based trainers who will be visiting remote communities to train residents on agriculture and other technical-vocational courses.
For her part, LTC Marani Ilagan AGS (GSC) PA, the Commanding Officer, encouraged the participants to take on the challenge, finish the training, and get themselves certified since these could be used when they got to be assigned in far-flung areas or when they retire from service.
She also expressed her gratitude to TESDA and QNAS for the opportunity to trained their personnel for them to be able to perform landscaping and maintenance activities within the camp.
Meanwhile, last November 2, 25 PAF personnel have started their 10-day training on Service Engine Components/ Mechanical System Leading to Automotive Servicing NC II at Camp JP Razon, Sitio Palico, Barangay Bilaran, Nasugbu, Batangas.
Present during the ceremony were TESDA Batangas Provincial Director Gerardo Mercado and PAF Deputy Group Commander Maj. Amandio Gomez. ###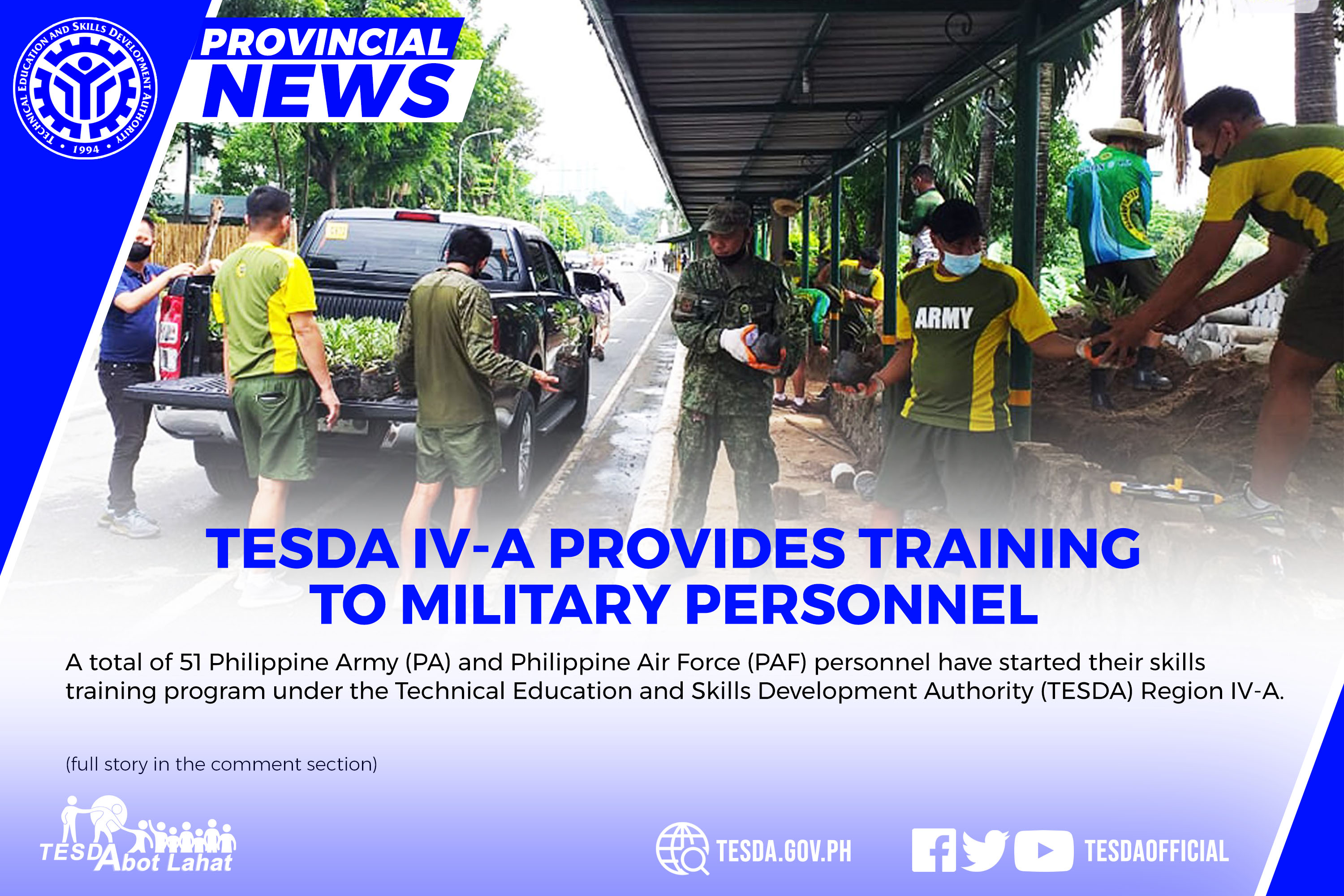 For more information, contact:
TESDA Regional Office Calabarzon
Telephone no.: (02) 697 2407
Email: region4a@tesda.gov.ph
Facebook: https://www.facebook.com/tesdaR4A