TAGUIG CITY - Technical Education and Skills Development Authority (TESDA) Secretary Isidro Lapeña expressed his commitment to continue reaching and empowering more Indigenous People (IP) communities in the country after attending the joint meeting of the National and Regional Task Forces to End Local Communist Armed Conflict held on Friday, March 5 at the University of Science and Technology of Southern Philippines (USTP) Gymnasium in Cagayan de Oro City which was also attended by President Rodrigo Duterte.
Duterte publicly gave TESDA and the Department of Agriculture (DA) a marching order to identify the Certificate of Land Ownership Award (CLOA) beneficiaries of the Department of Agrarian Reform (DAR) and give them the skills and livelihood training they need to till the land they have received.
"After being given land, TESDA and DAR should provide the means for him to have a livelihood," Duterte ordered.
In his message, Duterte also addressed the communist insurgents in the country saying that the government and TESDA are always ready to give them the help they need if they decide to start peaceful and productive lives.
"For those who do not want war, those who understand what's wrong and right, you know that we will know if what you did was right or wrong, we will still welcome you. I'll give you a house and a job. And while you don't have a job, I'll give you rice. I'll also find a job for your wife. TESDA is there," he said.
Duterte added that since the government would give the people their own land, TESDA and DA should follow it up with skills training and farming equipment.
"That's why… Apart from land, you should also give him some fertilizer and seedlings. I will spend all of government's money even if I have to steal it for as long as we can provide you all these," he assured.
As the lead agency of the Poverty Reduction and Livelihood and Employment Cluster (PRLEC) of NTF-ELCAC, TESDA has been penetrating far-flung communities in the country to empower its residents through livelihood and other skills training.
The Cabinet Officer for Regional Development and Security (CORDS) of Region X, Presidential Communications Operations Office (PCOO) Secretary Martin Andanar reported that 1,277 individuals, 88 former rebels, and more than 2,000 IPs in the region have received various skills trainings and livelihood assistance from TESDA and other PRLEC member-agencies.
"I really saw his people training former rebels in Bukidnon. I want to thank Secretary Sid Lapeña. Thank you, Sir for helping us wholeheartedly here in Region 10," he said.
Philippine Army's 4th Infantry Division Commander Major General Andres Centino also announced that TESDA and the PRLEC have been outstanding in implementing the Priority Barangay Development Program in Northern Mindanao.
"There are a total of 97 barangays with intervention, 13 sustaining barangays, 1,277 individuals enrolled, and 391 employed," he reported.
In return, Secretary Lapeña gave his assurance to President Duterte that TESDA will continue to work closely with DAR, DA, and other CORDS and clusters of the NTF-ELCAC in reaching more remote areas of the country.
"We, in TESDA, want to assure the President that PRLEC will adhere to his directive and we will see to it that the land which the government has provided our kababayans will be productive. This way, through our services, we can earn their trust in the government once again," he said.
Through an awarding ceremony, Lapeña also presented Certificates of Commitment to some local government units in Region X assuring that the agency will provide skills training in Solar Installation for NTF-ELCAC beneficiaries in Talaandig Tribal Community located at Sitio Litig, Barangay Barobo, Valencia City, Bukidnon and more livelihood trainings for other far-flung communities in the region. ###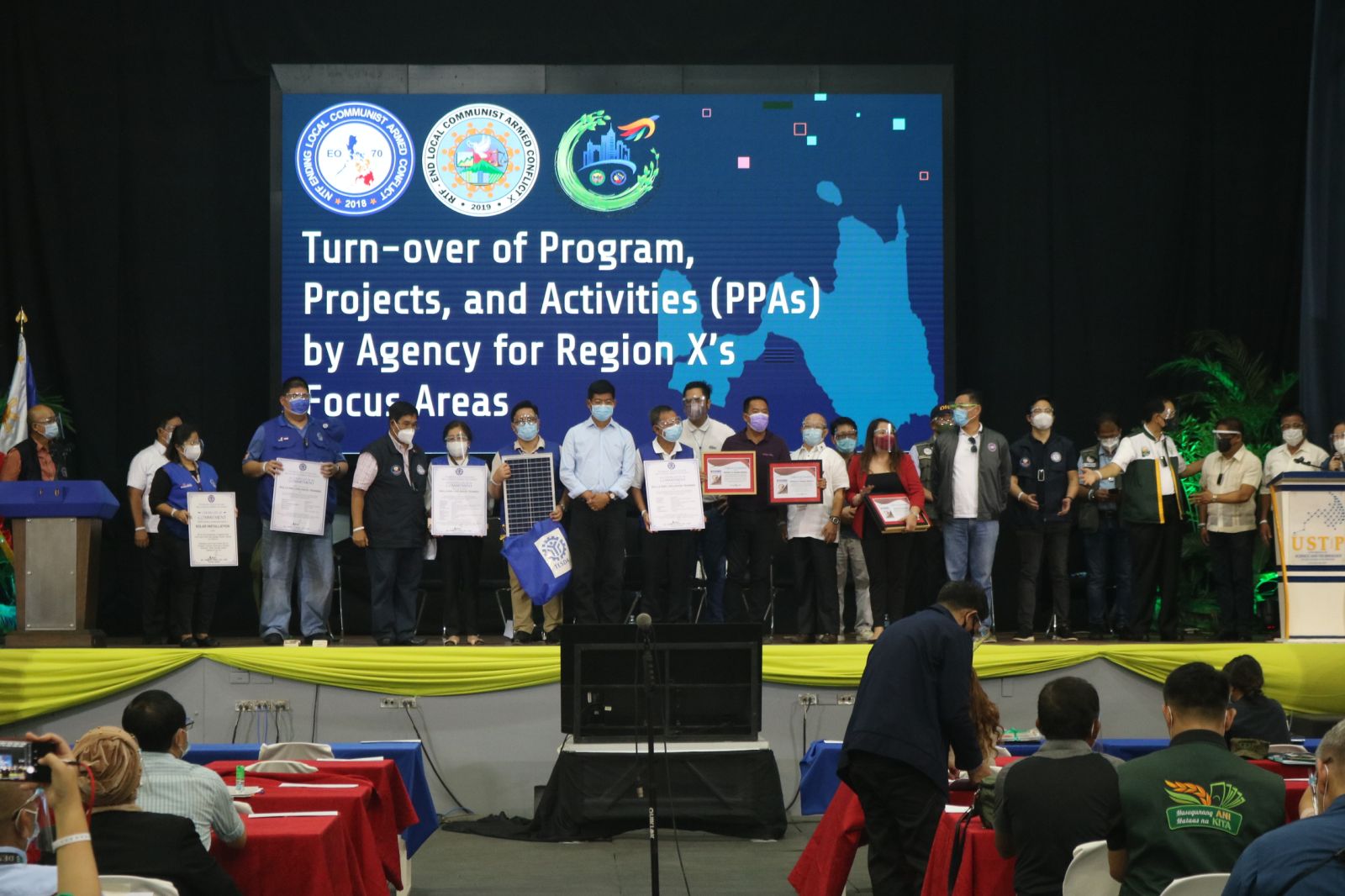 Secretary Isidro Lapeña delivering his message during the Ceremonial Turnover of 2019 STEP Toolkits in NCR.