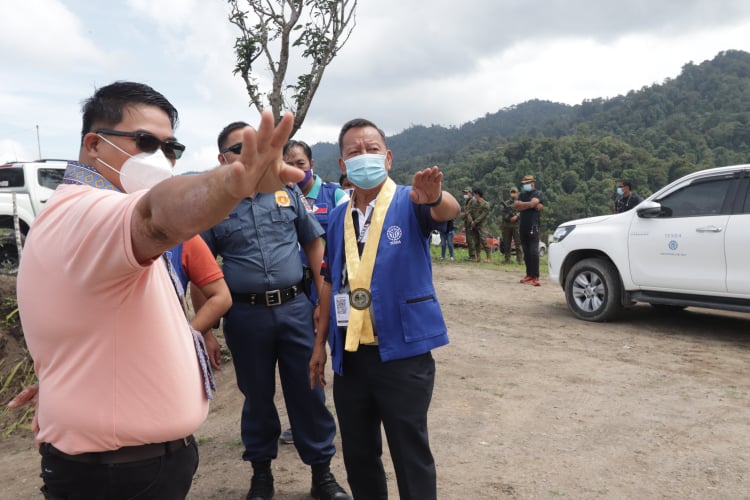 IN PHOTO: Tampakan Mayor Leonard Escobillo with TESDA Secretary Isidro Lapeña during the former's visit at Barangay Tablu to assess other development programs suited for the village.
TAGUIG CITY - To conclude the week-long celebration of the 26th Technical Education and Skills Development Authority (TESDA) Anniversary, the agency's regional and provincial offices simultaneously implemented on Friday development projects in 42 priority villages all over the country.
The 42 barangay development projects kicked off in 16 Retooled Community Support Program (RCSP) prioritized barangays, 12 barangays identified by the National Intelligence Coordinating Agency (NICA), and 14 Joint Regional Task Force to End Local Communist Armed Conflict (JRTF-ELCAC) identified barangays.
As the lead agency of the Poverty Reduction, Livelihood, and Employment Cluster (PRLEC), TESDA has already consulted all of these Geographically Isolated and Disadvantaged Areas (GIDA) and identified the livelihood support they need to improve their living conditions.
Here in Luzon, among the projects launched was the Turn-On-The-Sun (TOTS) project for the village of Puray in Montalban town which is one of the priority barangays under the Retooled Community Support Program of the NTF-ELCAC.
The Project TOTS in Rizal Province enrolled 23 IPs, one Barangay Kagawad and a member of Philippine Army.
In Barangay Pudong, Kabangan, Benguet, TESDA-CAR launched the 3rd batch of its Project SILAW which will provide beneficiaries free training on solar lights installation.
Meanwhile, TESDA-Sorsogon launched "Livelihood Community Based Food Production Project" in the Municipality of Prieto Diaz where baking apparatus and other toolkits were distributed to their scholars.
Several agri-related programs were also launched in Quezon City, and in Ilocos region.
In Visayas, TESDA-VIII launched Agrikultura at Kabuhayan tungo sa Kaunlaran at Pangkapayapaan (AKKAP) Project – Integrated Organic Farming System in Barangay Cabungaan, in Naval, Biliran which is identified as the pilot barangay among the five identified priority barangays in the province.
The Cabungaan Farmers' Association will undergo skills training on Organic Agriculture Production NC II, Masonry NC I, Carpentry NC II, Animal Production (Poultry-Chicken) NC II, Bread and Pastry Production NC II, and Backyard Tilapia/Catfish Production known as "Isdang Ulam sa Bakuran" which is a project of the Municpial Government of Naval in partnership with the Bureau of Fisheries and Aquatic Resources and TESDA-Biliran who donated a concrete foot walk done by the first batch of Masonry NC I scholars.
On the other hand, a Training Induction Program was initiated by TESDA-Region VIII in Barangay Kahupian, Sogod, Southern Leyte where 25 scholarship slots in Carpentry NC II and Driving NC II, and another 20 slots in Shielded Metal Arc Welding NC II were given to identified beneficiaries of the community.
In Mindanao, TESDA-Region XI inaugurated the FIRST Bread Basket Bakeshop in Barangay, Magwawa, Sto.Tomas, Davao del Norte which is now managed by Magwawa Skilled Workers Association.
Magwawa was provided by TESDA Davao del Norte with skills training for Bread Making last December 2019 in partnership with Philippine Army's 89th Infantry Battalion.
To maximize their market, a brand-new motorcycle was donated from a partner private company, Ecner Banana Corporation, which will be used for the delivery of baked products to nearby sitios.
Meanwhile, TESDA Secretary Isidro Lapeña led the distribution of allowances for 50 IP scholars at Survival Garden, Barangay Tablu, Tampakan, South Cotabato who are currently taking Pest Management and Organic Agriculture Vocational Courses.
"We will provide more agricultural programs for Tampakan. I am happy to know that Region 12 is addressing the agricultural concerns of our IP communities," he said in his speech.
Together with Senator Manny Pacquiao and local officials, the TESDA chief also led the inauguration of the newly-built TESDA-XII Regional Office located at Barangay Carpenter Hill, Koronadal City.
Lapeña is the designated Cabinet Officer for Regional Development and Security (CORDS) of Region 12 (SOCCSKSARGEN) where the Province of South Cotabato belongs.
#####
OTHER PHOTOS: TESDA Secretary Isidro Lapeña with Tampakan Mayor Leonard Escobillo consult former rebels and other residents of Barangay Tablu, Tampakan, South Cotabato to address their needs and other concerns.