The Technical Education and Skills Development Authority (TESDA) launches a four (4)-part TVET Policy eFora Web Conference Series themed "Survive, Revive, and Thrive: Transforming TVET towards the New Normal and Digital Future" to discuss the current challenges in Technical Vocational Education and Training (TVET) and industry sectors to date.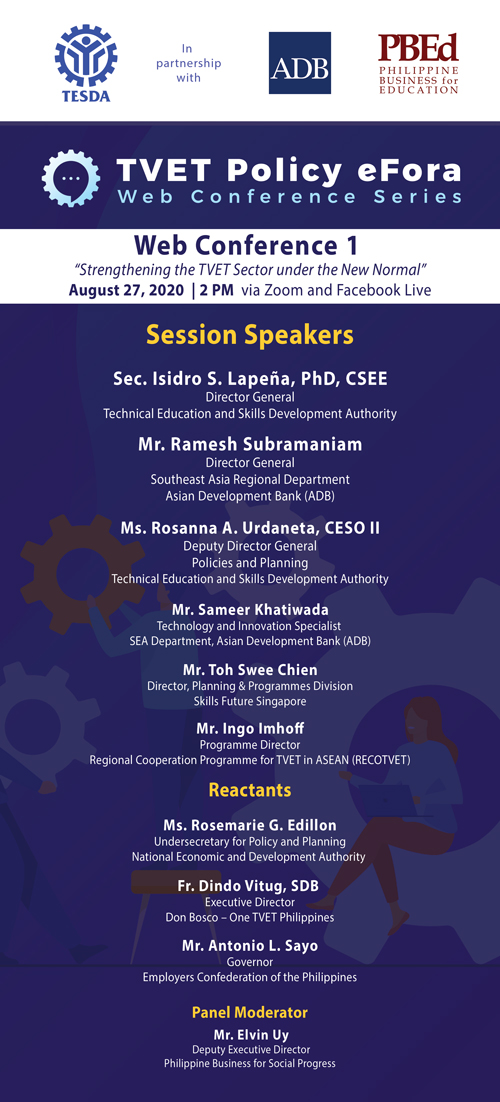 The e-Fora, organized by the Agency's Planning Office in partnership with the Asian Development Bank (ADB) and the Philippine Business for Education (PBEd), is part of the activities for TESDA's 26th Anniversary celebration themed, "TESDA @ 26: Bringing Hope in time of crisis."
Interested parties may register at http://bit.ly/tvetpolicyefora-reg.
Addressing the various issues brought about by the pandemic, and the rapid changes in technology and work environment, the series will present current TVET situationer(s), local and international TVET-related initiatives, and strategies for employment and productivity in the public and private sector.
The e-Fora will also serve as a platform for consultation and knowledge-sharing on TVET frameworks and policies that should be prioritized, realigned, or created to enable workers and businesses to recover and bounce back.
The public is invited to join as the WebCon sessions will be broadcasted live via Facebook, with the first installment (WebCon 1) scheduled on August 27.
For WebCon 1, TESDA Secretary Isidro Lapeña will give the opening message, followed by Director General Ramesh Subramaniam of the ADB Southeast Asia Department.
TESDA Policies and Planning Deputy Director General Rosanna A. Urdaneta will be weighing in on "TVET Initiatives, and Strategies for the New Normal and Beyond," while Asian Development Bank Technology and Innovation Specialist Sameer Khatiwada will be presenting an ADB TVET Sector Study.
Director Toh Swee Chien of SkillsFuture Singapore and Regional Cooperation Program for TVET in ASEAN (RECOTVET) Program Director Ingo Imhoff are also set to speak on "TVET in Singapore: Adapting to the Challenges of COVID-19" and "Learning for Technology in TVET, " respectively.
Distinguished experts from the academe,national government agencies (NGAs), and various industries will comprise the panel who will render their views to the presentations and forum topics.
Reactors include Undersecretary Rosemarie Edillon of NEDA, Executive Director Dindo Vitug, SDB of Don Bosco – One TVET Philippines, and Governor Antonio Sayo of the Employers Confederation of the Philippines.
The main eForum will also be attended by TVET experts from the Association of Southeast Asian Nations (ASEAN), other international organizations, and all industry sectors in the Philippines.
Stakeholders from public/private partners and non-government organizations (NGOs) will also be participating in the e-Fora.
Details of the event are available at http://bit.ly/tvetpolicyefora.