16 July 2020
CAMP CRAME, QUEZON CITY - The Technical Education and Skills Development Authority (TESDA) and the Philippine National Police (PNP) signed here on Monday, July 13, 2020, a memorandum of agreement (MOA) that aims to empower the Indigenous People (IPs), former rebels, and other members of far-flung communities in the country.

TESDA was tasked to upskill police officers who will be visiting remote communities to train residents on agriculture and other technical-vocational courses.

The MOA, which was signed by TESDA Secretary Isidro Lapeña and PNP Chief Police General Archie Francisco Gamboa, states that TESDA and PNP will carry out education and training; trainers development; facilities and equipment-sharing for training and assessment; and competency assessment and certification under the existing rules and regulations of both agencies.

In his speech, Lapeña admitted that TESDA does not have enough trainers and training schools to reach far-flung communities and having the PNP officers will help address the challenge.

"With this arrangement, the government can train more of our special clients and develop their skills for employment or livelihood, and uplift their quality of life and their communities," he said.

Lapeña also shared with the PNP the two-pronged strategic thrust which is used by TESDA trainers all over the country as a guide on empowering their students.

"May you keep in mind the Global Competitiveness and Workforce Readiness; and Social Equity for Poverty Reduction. Skills trainings are meant to capacitate people to find new paths for development among themselves, their families, and their community as a whole. Education and training can create those new paths, and we need capable trainers to deliver them," he added.

Meanwhile, Gamboa believes that PNP's cooperation with TESDA is timely as the Filipinos need to balance livelihood and health during this pandemic.

"Harnessing technical education and skills could be one of the logical solutions to help our people to get back on their feet," he said.

During his speech at the PNP-12's flag ceremony last June 22 in General Santos City, the TESDA chief expressed the agency's readiness to provide free skills training for police officers to capacitate them on becoming trainers of various technical-vocational courses for the remote communities of the country.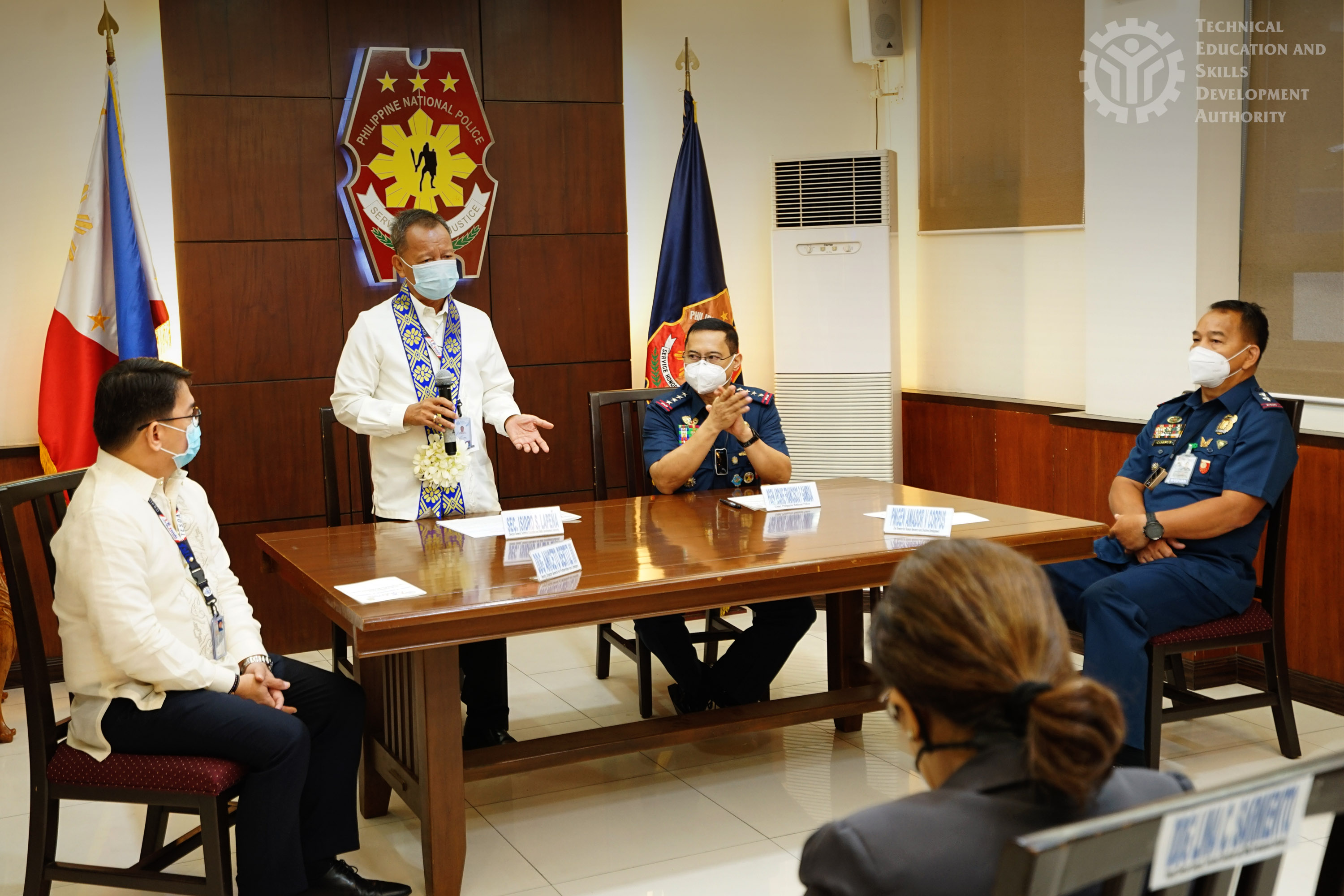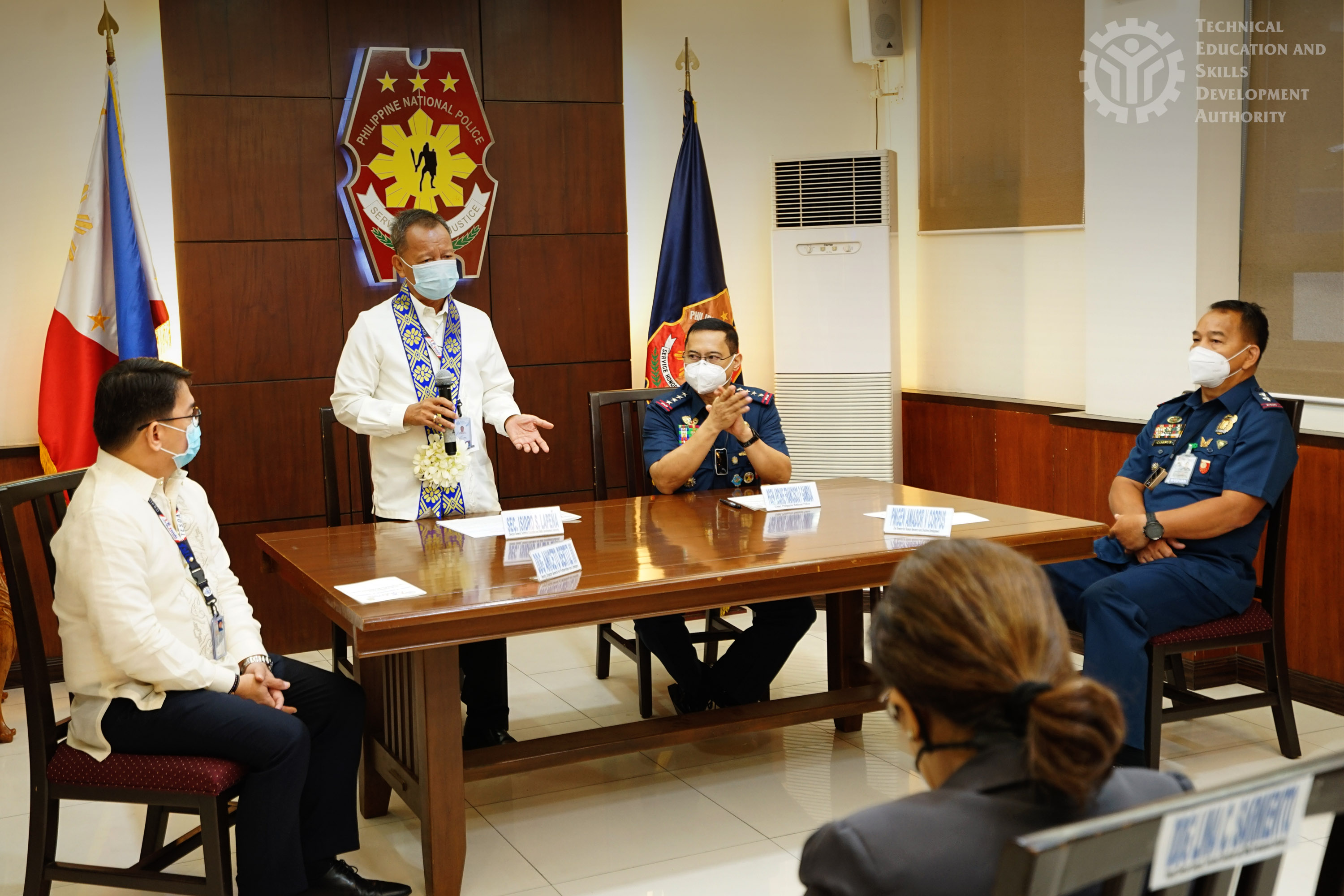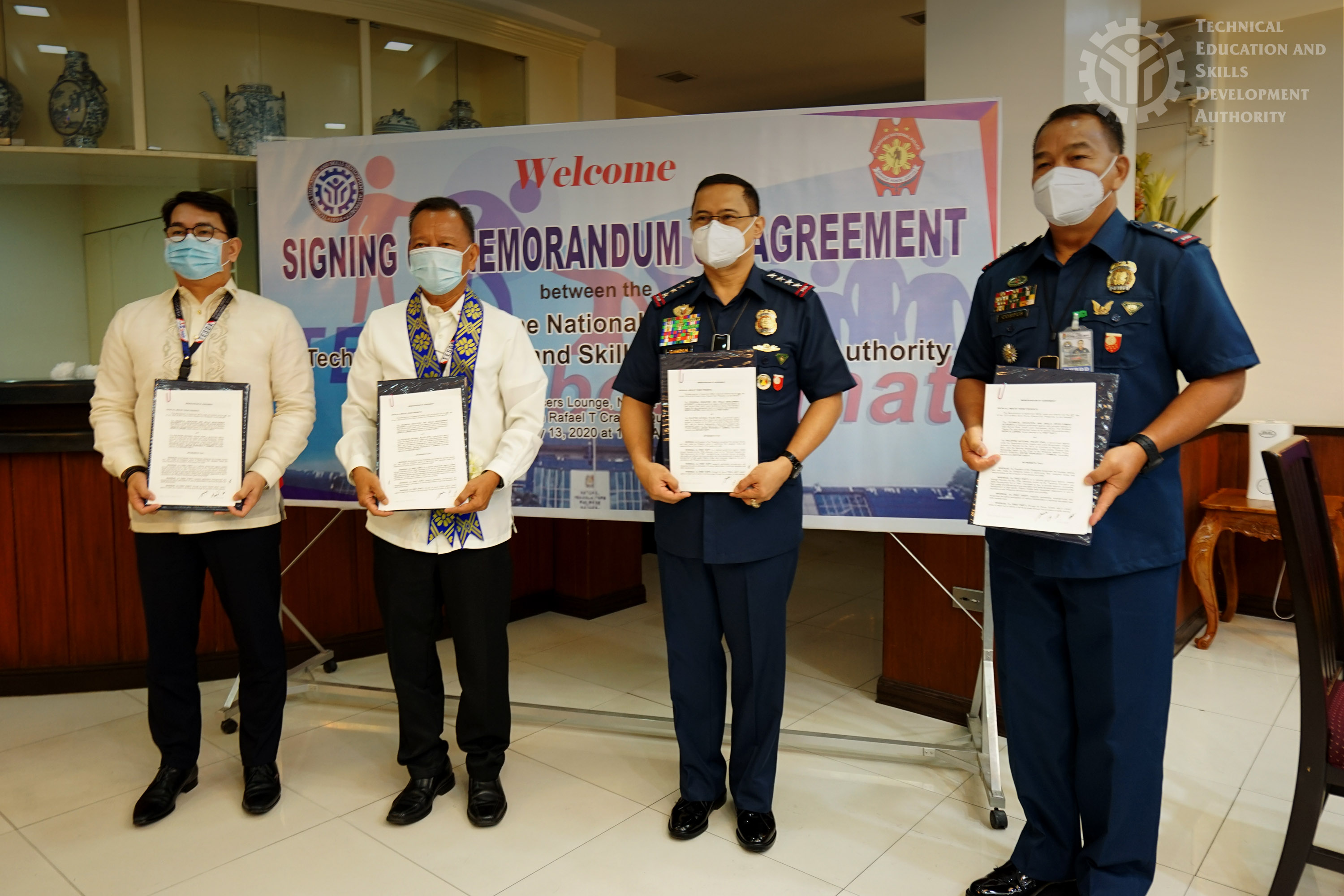 From left to right: TESDA Deputy Director General for Partnerships and Linkages Aniceto Bertiz III, TESDA Secretary Isidro Lapeña, PNP Chief General Archie Francisco Gamboa, and PNP Directorate for Human Resource and Doctrine Development Director Police Major General Amador Corpus before, during, and after the MOA signing at PNP Headquarters in Camp Crame, Quezon City.