June 21, 2019
In a bid to ensure continuity of programs for special clients, the Technical Education and Skills Development Authority (TESDA) has started the conduct of skills training for the beneficiaries of the members of the Armed Forces of the Philippines (AFP) and the Philippine National Police (PNP) who were killed in action (KIA) or killed in police operation (KIPO).
The 58 legal dependents of AFP-KIA and PNP-KIPO who were provided skills training at the TESDA Women's Center belong to the 15th and 16th batch of the Capacity Building Training (CBT) under the Comprehensive Social Benefits Program (CSBP) implemented by the agency.
The CBT, conducted under the concept of the CSPB, aims to provide financial literacy, skills and entrepreneurship training for the legal dependents of police and military personnel.
The trainings are conducted to ensure that the remaining 193 target beneficiaries to be trained for 2019 will be met.
The TESDA Regional offices have also been mandated to conduct similar training to ensure 100% accomplishment of this target by the end of the year.
To date, TESDA has trained a total of 628 beneficiaries on various competencies such as Process Food by Salting, Curing and Smoking, and Sugar Concentration, Fruit and Meat Processing, and Bread and Pastry Production.
Since the signing of the Memorandum of Agreement (MOA) with 17 other government agencies on February 15, 2017, the Authority has become the lead agency for the CBT together with the Bangko Sentral ng Pilipinas (BSP), and the DTI.
The MOA guarantees the enactment of the CSBP alongside the provision of benefits for the target beneficiaries such as special finance assistance (SFA) for the battle/duty casualties, shelter and health care assistance, and educational assistance.
Accompanying TESDA in this skills training program are the Department of Interior and Local Government (DILG), Department of National Defense (DND), Department of Trade and Industry (DTI) and National Police Commission (NAPOLCOM).
"Together with the DILG, DND, DTI, BSP, AFP, and PNP – the team behind CBT, TESDA will continue to provide skills training assistance to the beneficiaries of our police and soldiers, as it is our responsibility as an agency to make sure that no matter the adversities faced, our fellow Filipinos and their families are capable to face them," Secretary Isidro "Sid" Lapeña said.
The 15th batch of trainees for the Process Food by Sugar Concentration (Leading to Food Processing NC II) completed the said course on June 19 (Wednesday), while the 16th batch is set to finish on June 21 (Friday).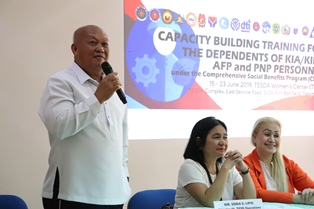 Department of National Defense Assistant Secretary Antonio Bautista delivers message for the beneficiaries of the members of the Armed Forces of the Philippines (AFP) and Philippine National Police (PNP).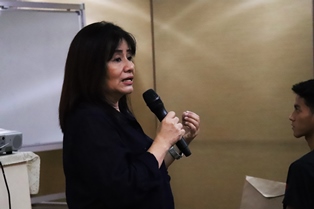 IN PHOTO: IN PHOTO: Ms. Corabeth Magkalas of the Department of Trade and Industry – Bureau of Small and Medium Enterprise Development.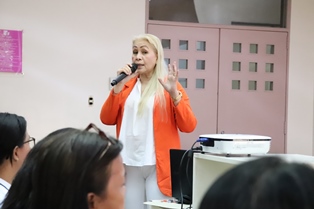 IN PHOTO: DILG KIA-WIA Program Manager Jocelyn Cabaña.