ICTrities (April 2004)
---
Introduction

Trends and growth prospects for the Asia/ Pacific Outsource Services market pointed out that Asia would be a source of significant outsource operations from the United States and Europe. There would also be increased demand for provision of quality services in low cost countries and regions. The Philippines has been cited as a specific alternative to India due to its historical and cultural ties. The country is fast emerging as Asia's hub in electronic services in view of the rapid development of the Information and Communications Technology (ICT) in the country. As an e-services hub, companies located in the Philippines will be able to extend world-class ICT services and ICT-enabled services to clients worldwide. The President had even cited ICT as the "strategic tool to finding the country's proper niche in the global village in the 21st century."

By definition, ICT-enabled servicing would require skills on the application of information technology. Its scope include customer contact centers, content development (animation, transcription, engineering and design, distance education), backroom operations services, , animation and other forms of sub-contracting of e-services.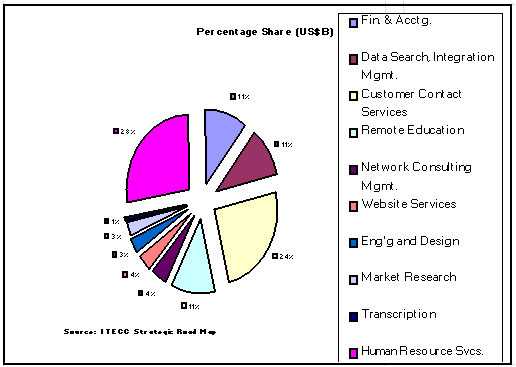 The ICT-enabled services field is considered as a Philippines' market niche in view of its high potential for growth and contribution to employment. McKinsey and Co. estimated that e-services worldwide are expected to be worth US$180 billion by year 2010. Specifically, projected market shares would be: human resources services (US$50.4 B), customer contact services (US$43.2 B), data search, integration and management, remote education, finance and accounting services (at US$15 B) each.

In Asia, the country is in the best position to gain a large share of e-services contracts in view of the following reasons: affordable quality human resource; affinity to Western culture; strategic location; hospitable lifestyle and expanding infrastructure.


The Priority Sectors for E-Services

The Philippines has been recognized to be capable of providing services in the areas of customer contact centers, content development backroom operations and core IT services. Experts are in agreement that the demand for these services would continue to grow in the next couple of years. However, DTI reported that among the various e-services that could be provided by the Philippines, it considered that contact center services, medical transcription and animation present the best opportunities for employment especially in the United States. Likewise, shared financial services, and software development are also seen as bright prospects. This was based on business trends, projected growth rates and the country's comparative advantage.

In view of the projected growth in the e-services segment of the industry, the Information Technology and E-Commerce Council (ITECC), the body chaired no less by the President had identified and worked towards the promotion of the following ICT priorities:


Customer Contact Center

Customer contact centers in the Philippines are expected to reach an aggregate growth rate of 50 percent equivalent to US$864 by the year 2004. The demand for outsourced contact center services would continue to increase that would benefit the country. The Contact Center Association of the Philippines (CCAP), a grouping of contact center service providers in the country, estimated that the US market alone would be needing 1.5 million IT workers to serve its requirements. CCAP pointed out that of the estimated US$200 billion investment in ICT-enabled services in the next couple of years, around US$42 billion would be the share of the contact center services.

In terms of employment, CCAP member companies currently employ 30,000-40,000 workers but are expected to expand four-fold as their client base increases. DTI data showed that there are 37 firms providing contact center services, majority of which (92%) are in Metro Manila. The prospect is indeed bright as 77 percent of Fortune 500 companies already outsource some aspects of their support services which the Philippines can capitalize on.


Medical Transcription

Another e-services field where the Filipinos are seen to excel would be in medical transcription. It deals with interpreting/electronic encoding of patient assessment, therapeutic procedures, etc. Presently, more and more health institutions in the US and other countries are outsourcing their medical transcriptions from outside their territory including the Philippines. The demand for electronic medical records became more profound in the US in compliance with the requirements of federal authorities. The need for medical transcription services is currently a US$10-US$16 billion industry with an annual growth rate of 20 percent. Employment in the US of medical transcriptionists is recorded at 230,000 per annum but their availability is declining by 10 percent annually. The country is the prime choice to provide this kind of e-service in view of our familiarity with US medical standards, terminology and practices.


Animation

Animation deals with giving illusion of movement to cinematographic drawings or inanimate objects thru 2D or 3D. Demand for Filipino e-services in this area is also enormous in view of the inherent ingenuity, creativity and artistry of the Filipinos. Aside from their artistry, Filipino animators stand out from the rest of the world for their multi-cultural orientation that enables them to internalize storylines and concepts for better artwork and faster execution. Global revenues in animation are expected to increase from US$16 billion in 2001 to US$50 billion in 2004-2005. Current industry players numbered 22 firms to include 11 direct exporters. Existing markets are the US, Japan, Australia, Canada, France for entertainment while China, Malaysia, Korea and Thailand are main markets of education/business modules. Business Process Outsourcing/ Shared Financial Services

Trends in this area look bright as firms continue to consolidate their backroom operations on a regional level. There are around 5-6 financial and accounting centers not to mention those offering other backroom operations. The country is a major player in this area as Filipinos are regarded as among the best accountants in the world, according to the GAAP of the US. The Philippines also produced a large pool of potential workers in this area as 80-100 thousand business-related students graduate yearly.


Software Development Services

Estimated revenues in this area is expected to climb from US$115 M in 2001 to US$268 M in 2004. The Philippines can excel in identified niche markets especially in the maintenance of legacy systems and in wireless applications. Market for the maintenance of legacy systems is expected to increase since India who is the major player in this kind of service provision is moving out of the legacy system. There are at least 52 firms currently listed with the Board of Investments and 24 PEZA-registered providing software development services.


Construction-Related Engineering and Design
This would involve in-house or subcontracted computer-aided design services for transport, water/environment, commercial/industrial, health/sports/education, housing/institutional and other facilities. Trends and prospects in construction is moving towards the opening of China market for construction services. The Philippines is offering good fundamentals in this sector as we have a ready pool of around 75,000 licensed professionals. Engaging the services of Philippine companies would lead to a 15-30 percent reduction in cost as compared to what the US, Japanese and Singapore companies could offer.


TVET Implications

Based on the foregoing, TESDA must strengthened its quality assurance mechanisms in order to develop the necessary manpower equipped with the requisite knowledge and skills of these emerging fields. TESDA must direct IT-related TVET programs towards the development of skilled workers in areas where the prospect for employment is quite high. TESDA must also ensure that the graduates do have the skills in customer relations, communications and are highly trainable and adaptable. We should strengthen our working relationship with the industry group in order to address the perennial problem of skills mismatch.

Competency assessment and certification is another area where TESDA must actively participate. The agency must see to it that the development of training regulations, competency standards as well as the assessment and certification of IT workers are being conducted effectively. TESDA must be able to pursue the accreditation of IT certification mechanisms like the vendor-specific certification that are internationally recognized. This would provide ample protection to IT practitioners seeking to be certified against unscrupulous entities/certifying bodies.