ICT Updates (October 2004)
---
Introduction

Growth. Demand. Employment. This is the current scenario of our Information and Communications Technology (ICT) industry today. Emerged from its humble beginning, the Philippines is now projected to be the next ICT hub and best breeding ground of ICT Professionals in Asia. Cited reasons of the ICT industry's development can be traced in the country's strategic location, the boom of e-services, flexible workforce, and expanding infrastructure. Recognized as e-services priority sectors, the contact centers, together with medical transcription and computer animation are strengthening their way to compete with other Asian countries. With this stance, an increase in ICT and related employment is anticipated by various ICT executives and authorities. The Philippines is now tasked to develop ICT-equipped workforce with the right competency to serve the future demand and to continue its advancement and progress in the field of ICT.


A Glance at the ICT Demand

Newspaper Postings

Based from newspaper postings last March 2004, the collated data of the TESDA Career Reference Information System (CRIS) identified that 11% among the total of 1,025 companies comprises employers in need of different ICT or related services. ICT and ICT related occupations comprised the 15% in the total job openings identified by TESDA through newspaper postings. Positions for computer programmers, computer technicians, and technical support assistants holds the highest number of postings. Some of the postings are for software development engineers, systems engineers, web developers, technical supervisors, database administrators, and network administrators. However, postings for call centers, medical transcription and computer animation are not included in the collated data.

The graph shows the high number of posting for computer programmers among other ICT professions. The postings for computer programmers vary on programming languages, some of which are COBOL, JAVA, and LINUX.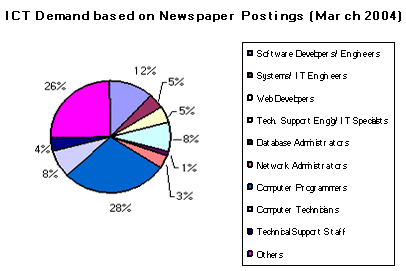 Although the demand for ICT workers based from newspaper postings are not highlighted with such high number, it was confirmed by different ICT industry experts and executives. One of which is Mr. Joaquin Quintos, President of IBM and he said that the ICT industry had recently been growing at a sustainable rate that an increase in ICT employment prospects is foreseeable and expected in few years time. He encouraged high schools graduates to take up IT or related courses in college but likewise reminded that there is rampant mismatch between school curricula and industry demand. Mr. Oscar Chang of TrendLabs/TrendMicro, leading global developer of anti-virus software, agreed with the notion of mismatch. He said among the 100 applications the company receives only 10 are accepted. He emphasized that potential IT workers must have the right skill to be employable. Right skill pertains to continually upgrading of one 's knowledge, competencies and skills in IT.

Jobs Fair and Online Posting

There are really job vacancies waiting to be filled up nowadays. These are reflected in the results of ICT Jobs Fair. Online job postings gathered through itpros.ph, sole repository for ICT jobs postings and professionals also showed current in-demand ICT occupations.

Visibly emphasized is the large chunk for ICT-enabled positions such as Technical Support Representative, Customer Service Representative/Associate and Technical Support Engineers for the call centers companies. These positions comprised almost 90 percent of the posted vacancies. Next in rank are positions for programmers and IT faculty staff where proficiency in different programming languages are essential. Most in demand programming languages are JAVA, C++, Visual Basic, and ASP. Expertise in administering various application softwares like SQL Server, MySQL and Crystal Report are also preferred. For managerial and supervisory positions, these require diverse knowledge and vast experience in the field of IT. Professionals with Master degrees in IT and IT related fields are most favored by employers. ICT Certifications are not considered requisite but preferred on high-end positions like Oracle Database Administrator.

All positions given require graduates from IT or IT-related courses. Although some accept even college level, especially in call centers, they assert experience to compensate the lack of college degree. Well-known and established call centers currently demand applicants who are fluent in oral and written English or in other foreign language. Some call center companies also entail IT background for the Technical Support Representative and Technical Support Engineer positions.

Special requisite for web designers and developers are skills in different web and graphic application softwares such as Macromedia Flash and Dreamweaver, Adobe Photoshop and Illustrator, and Paint Shop Pro. Expertise in HTML, DHTML, XML, ASP, and Coldfusion are also required.


Progress in e-Services

Even with the sudden backlash of United States against offshore outsourcing prospects, the Philippines remained steadfast in its e-services industry. With the country's comparative advantage against other Asian countries, projected growth for the e-services priority sectors will continually increase in the next few years making the Philippines soar high against its current competitor India which is experiencing a downfall in its ICT employment supply. E-services such as contact centers, medical transcription and computer animation are the best bet that the country can offer in global market. According to Meta Group, leading information technology (IT) research organization, the Philippines is presently ranked second next to India as the destination of choice for e-services.


Call Centers

According to the Philippine Call Center Industry Benchmark Study 2003 (PCCIBS), the local call/contact centers are expected to double its size to 40,000 seats this year from 2003's 20,000 seats. The 100% growth is considerably higher than other Asian countries such as India with 65%, China with 41%, Thailand and Malaysia with 15%. However, it terms of size, the Philippines lagged behind India with a projected number of 158,000 seats and China with 54,000 seats respectively. The small size of contact centers in the Philippines can be attributed to underdeveloped drivers of growth said Mr. Bong Borja, Chairperson of the Contact Federation of the Philippines. He also mentioned that scarcity of qualified call center agents contributes to the limited expansion of the aforementioned e-services sector.

On the other hand, Secretary Cesar V. Purisima of the Department of Trade and Industry remained very keen and positive about the future expansion and growth of the contact center industry in the Philippines. Secretary Purisima predicted that the 40,000-seat operation will double its size next year thus making the Philippines one of the major contact center destinations in Asia in the future years.

The Philippines is aiming to serve 50% of global call demand in the next 4 to 5 years. Call centers in the Philippines is strategically located in Metro Manila, Clark and Cebu. Davao is also pinpointed to be one of feasible location for contact centers.

Currently, there are 63 outsourced call/contact centers in the country that comprises about 25,000 seats in the Philippines.


Medical Transcription

As one of the identified priority sectors in e-services, medical transcription in the country is now taking its flight to serve the growing demand of skilled medical transcriptionist worldwide. High literacy rate, medical and computer training, and the developing IT infrastructure are the country's comparative advantage and plus factor in taking the major share of the global demand for medical transcription.

Medical Transcription educational provider president Eugenio G. Gonzales said that at present the country is not yet ready to address the high demand since there is still a need to educate the market about employment opportunities in the medical transcription industry. Mr. Gonzales, however, is still optimistic that the medical transcription industry will materialize like the contact center industry in the next three years given the immediate and proper positioning and readiness of the Philippines in the global market.

The Department of Trade and Industry likewise confirmed the demand and employment opportunities for medical transcription is indeed huge however the industry must maintain its quality to uphold the country's credibility to its global employment partners.

Identified by the US Department of Labor, the projected and estimated demand for medical transcriptionists is to be worth as much as $20 billion worldwide.

There are at least 16 medical transcriptionist companies in the Philippines said Mr. Edwin Fallorina of e-Scribir, a medical transcription company in Makati. Mr. Fallorina likewise said that Medical Transcription companies are situated in Metro Manila, Baguio, and Cebu.


Computer Animation

The presence of computer animation industry is being realized and manifested in the Philippines. As one of the priority sector in field of e-services, computer animation is identified to develop in the next few years. Reports say that there are around 22 animation service providers in the country today and expected to contribute $40 million in revenues by the end of this year. According to Ms. Marlyn Montano, President of the Animation Council of the Philippines, these animation companies ranging from small to medium scale business are subjected to prosper by 25% conservatively. Ms. Montano also estimated an increase in workforce demand of about 1,500 for computer animators in the next 3-5 years. Meanwhile, Ms. Montano likewise expressed the current lack of manpower supply, which is highly attributed to insufficient training and experience, lack of quality core competencies, and shortness of computer animation schools and training centers.

To be a computer animator, one must be an artist with at least one-year certificate on computer/digital animation from reputable and recognized animation school or training center.
t
For further advancement of computer animation industry, Ms. Montano advised that there should be an available and steadfast technology transfer from computer animator experts, realignment of computer animation school and training center curriculums to the global animation standards, and the establishment of first-rate animation school and training center in the country.


Strengthening the ICT-enabled workforce

To continually intensify the pursuit of producing more ICT-enabled workers, government is taking sound initiatives through different ICT-driven programs, policies, and projects. No less than the President of the Philippines committed to give a very high priority in the growing ICT sector. Proposal to make the National Computer Center (NCC) under the Department of Transportation and Communications (DOTC) is being pushed to put forward the creation of Department of Information and Communications Technology. The proposed agency will serve as the primary policy, planning, coordinating, implementation, regulation and administrative body of the country's ICT infrastructures and resources. The agency is said to likewise handle the proposed government initiatives including the National Information Technology Action Agenda for the 21stCentury, Government Information System Plan, the National Progress and Strategy for the Promotion of e-Commerce and the networking of all government agencies in the country.

Meanwhile, the former Information Technology and E-Commerce Council (ITECC) was replaced Commission on Information and Communications Technology (CICT), which was headed by Secretary Virgilio Peña, to temporarily oversee the ICT sector.



Recent programs are inducted with the support of private ICT businesses and companies, among these are the 3rd National Conference on e-Learning last month and the National Information and Communications Technology (ICT) Program this September. Both ICT events are spearheaded by government agencies and private ICT organizations and associations.


Endorsing Certification: Does it really pay to get certified?

According to Computing Technology Industry Association (CompTIA), one of reputable global certification provider, certification is used within the Information Communications Technology (ICT) industry to state that an individual has reached the required level of knowledge or skill to be competent in managing the implementation of a product, service or system. There are three categories of IT certifications, these are the global/vendor-developed certifications, vendor-neutral certifications, and country-developed certifications says Ms. Ito Gruet and Mr. Tim Diaz de Rivera who presented paper on the Framework for IT Certification in the Philippines. Both confirmed that ICT certification is a must for every ICT professional for it will boast a proof of professional achievement, provide better job opportunities, a viable career part and give foundational knowledge for more advanced ICT certifications. The paper also validated that ICT-certified professionals get higher paying jobs both here and abroad specifically in North America and Europe. Also, local employers prefer ICT certified workers since it simplifies recruiting and hiring by having measurable competence standards.
must
Last 01 September, the National Information and Communications Technology (ICT) Program was launched to accelerate the awareness, promotion, and advocacy of ICT Certifications in the country by giving at least 15% discount on different ICT examinations for the whole month of September. The program aims to ensure a pool of IT certified Filipino workers as contribution to the country's bid to be the IT Hub in Asia-Pacific Region. Government agencies and private ICT groups and associations spearheaded the program together with the support different ICT certification providers. Participants can avail up to 25% discount in form of vouchers and reimbursements.

There are over 100 ICT certification examinations available worldwide from different certification providers. Certification examinations from Microsoft, together with CISCO and CompTIA scored top among other IT certifications for 2004, Certcities.com cited.


Issues for Policy Consideration

Due to the lack of awareness and prohibitive cost, ICT certification is still considered to start in a slow pace development in the country. However, government, private and ICT sector are making sound initiatives to jumpstart the advocacy for ICT certification. The National ICT Certification Program (NICP) which was launched last September 01, 2004 aims to deliver affordable certification exams through discounts from participating certification providers such as Microsoft, CISCO, Oracle, Sun Microsystems, and others. Another activity designed to address the ICT certification promotion is the conduct of Certify IT conference held last September 21-22, 2004 which brought the country's top ICT executives to discuss the importance of ICT certification. The said event likewise aims to advance the quality of ICT workforce in the country by supporting the NICP and its projects.

Although the government and private sectors has made sound collaborative efforts, there are still factors that need to be considered and maintained. One is to have an understanding with employers and head hunters to include certification in job qualification in ICT field. Another is lowering the cost of certification to encourage more applicants to avail the examinations. Strengthening the government position in developing quality ICT workforce by creating different ICT programs and projects such as the NICP must be consistent and maintained.