Filipinos are Global Workers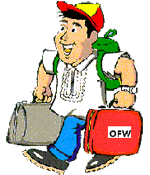 Only recently the International Labor Organization (ILO) reported that Filipinos are the number one migrant people in the whole world. The country already dislodged Mexico which for sometime had the most number of migrants. However, unlike Mexico where migration of its people is mostly headed for its neighbor United States, Filipinos are almost everywhere. You can name a country and chances are, there are Filipinos in there.

Estimates would show that more than 8 million Filipinos are abroad. This is quite astounding as this represents one-tenth of the Philippine population who work overseas to support their families back home.

Migration is seen to continue to rise as deployment figures are consistently high. With the exception of 2003, OFW deployment has been in the uptrend averaging close to 900 thousand workers annually. For the first time in years, OFW deployment surpassed the 900 thousand mark as last year's figures would show. For this year, the government targets 1 million deployed workers. This is not farfetched as more than half a million OFWs were sent abroad to work for the first six months of this year. This is due to the continued preference for Filipino workers and opening up of new markets.





Remittances Buoy Economy

Annual remittances from overseas Filipinos keep the Philippine economy afloat. Money channeled into the country amounted to billions of dollars. It has been steadily rising for the past few years and even recorded a high US$8.5 billion last year. This would be even higher if money through informal channels are accounted for. Data from the Bangko Sentral ng Pilipinas placed OFW remittances at more than US$3 billion for the first four months of the year only. In studies conducted by the World Bank and the Asian Development Bank for 2002 and 2003, respectively, they estimated that inflows from overseas Filipinos reached between US$14-US$21 billion per year. Indeed, OFW money helped boost the country's foreign exchange reserves aside from firming up social services like education, health, housing and spurring consumer spending.

The International Organization for Migration (IOM) World Migration Report 2005 detailed that the Philippines ranked third among migrant-sending countries in terms of remittances received from its nationals. Mexico and India occupied the first two slots while Egypt and Morocco completed the top-five remittance-receiving countries in the world. In terms of GDP share, however, OFW remittances is larger at 9.5 percent as compared to the other top countries with Morocco closest to the Philippines at 8 percent GDP share.