---
06 November 2011
Two veteran trainers were adjudged the national winners in the 2011 Holcim Galing Mason Awards, a joint undertaking of Holcim and the Technical Education and Skills Development Authority (TESDA).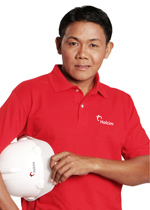 Eduardo Latap from Metro Manila and Alejandro Tagle from Quirino province in Region 2 shared the title of being the best masons for 2011 in the annual search nationwide and sponsored by TESDA and Holcim, one of the country's leading cement manufacturers.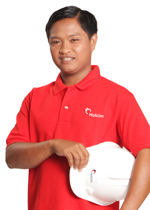 Constancio Gulingan from Kalinga province in the Cordillera Administrative Region (CAR) and Ariel Mazo of Tagum City in Davao Region, were awarded first runner-up and second runner-up, respectively.
TESDA and Holcim tied up to recognize the country's outstanding masons to encourage more of their kind to continuously improve their craft and to professionalize the industry.
"The structures around us – from our homes, to our schools, offices and buildings – would not have been possible if not for the expert hands of our masons. They not only lay the foundation of our homes, they help spur the construction sector, which makes the economy vibrant," Villanueva said.
"It is but fitting that we recognize those masons who have excelled and to let them know that TESDA offers them a choice to further hone their skills and be more employable," he added.
Both Latap and Tagle are certified masons as they holders of Masonry National Certificate II. They have also worked as trainors imparting their knowledge in masonry to out-of-school youth.
For 15 years, Latap has been one of the assets of DMCI Homes, one of the premier real estate developers in the country. He was awarded Best Mason at DMCI Inc. in 2005, 2006 and 2007, and Outstanding Supervisor in 2009. At present, he also helps train young masons in the DMCI technical training center.

Tagle, on the other hand, started young as helper mason, tile setter and helper carpenter, until he started taking courses in TESDA where he honed his skills. He started college education by taking up BS Civil Engineering but poverty prevented him from finishing the course. This did not deter him, however, from dreaming and working for a better life. He is now engaged in a small-scale construction business.
Mazo and Gulingan took masonry and carpentry from TESDA institutions until they found work in various firms and in their respective city governments.
---
---
© 2019 - Developed by: TESDA Planning Office - Labor Market Information Division